Putting V8s into little cars is fun. Driving them is funner. This project started out as a Gen2 RX7 with a blown engine. An engine and 700R4 automatic transmission from a 1988 Blazer provided the power.
The good thing about this combination is the fact the Rx7 is already rear wheel drive, has an adequate tunnel for the transmission, room under the hood for a V8, decent suspension and piston engines in RX7s piss off RX7 fanboys. As far as engine swaps go, this was not horribly difficult. The car started out with no dash, wires cut everywhere, interior was missing most of the plastic and cloth.
I happened to find a Turbo II version in the local pick-and-pull with a complete grey interior, LSD rear end and Tokicos already installed. I removed those and the rear hatch as mine was broken, the taillights, and used them in the project. I also bought a transmission-to-speedometer adapter elbow from an online seller that specializes in these types of swaps. I also had to pull a manual rack from another boneyard RX7 as I didn't want to mess with the power steering pump. it also required a 'short shaft' water pump, a larger radiator and fan kit.
As far as custom fabrication, it really only needed a few things:
Motor mounts
Exhaust
Driveshaft made from RX7 and Blazer 'ends'.
Shifter mounted for Blazer's transmission
Transmission support cross member
Once the driveline was mounted, fired up and running and the exhaust was done, all the car really needed was some working gauges, (another trip to the boneyard for an instrument cluster that I sent off to be modified to show correct RPMs), basic interior controls and interior. I made a little switch panel to run the front blower heat/defrost, and a plain switch for the rear window defrost and wiper to go in the center console behind the shifter. I used a manual choke knob/cable to move the blend doors from defrost to vent and floor heat.
Since there would be no climate control or radio, I cut out some little brushed stainless panels to mount gauges. I also had to cut a hole in the hood for the air filter, and a pep-boys stick-on hood scoop kept the rain out.
Here's how well the engine fit: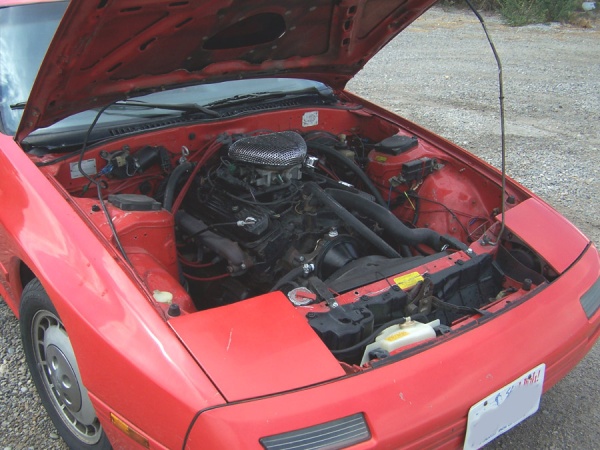 The dash and interior installed: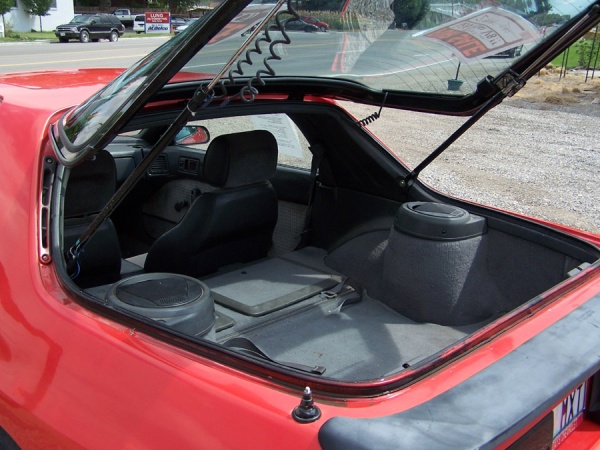 The additional gauges:
Air/Fuel
Trans Temp
Clock
Switches: Dash lights/Interior lights/gauge panel lights
Oil and Water temps
Switch: manual radiator fan power, blue indicator light so I don't forget to turn it off.
All in all it was a fun project, and it was a blast to drive. The sound of the V8 through that custom dual exhaust was great!
I eventually sold it as I moved on to work on other projects.